Customer
Glasshoughton Wheel of Light
Location
Yorkshire, England
Product Used
Vitreflon fluoropolymer
Contractor
Coating Services, Greater Manchester, England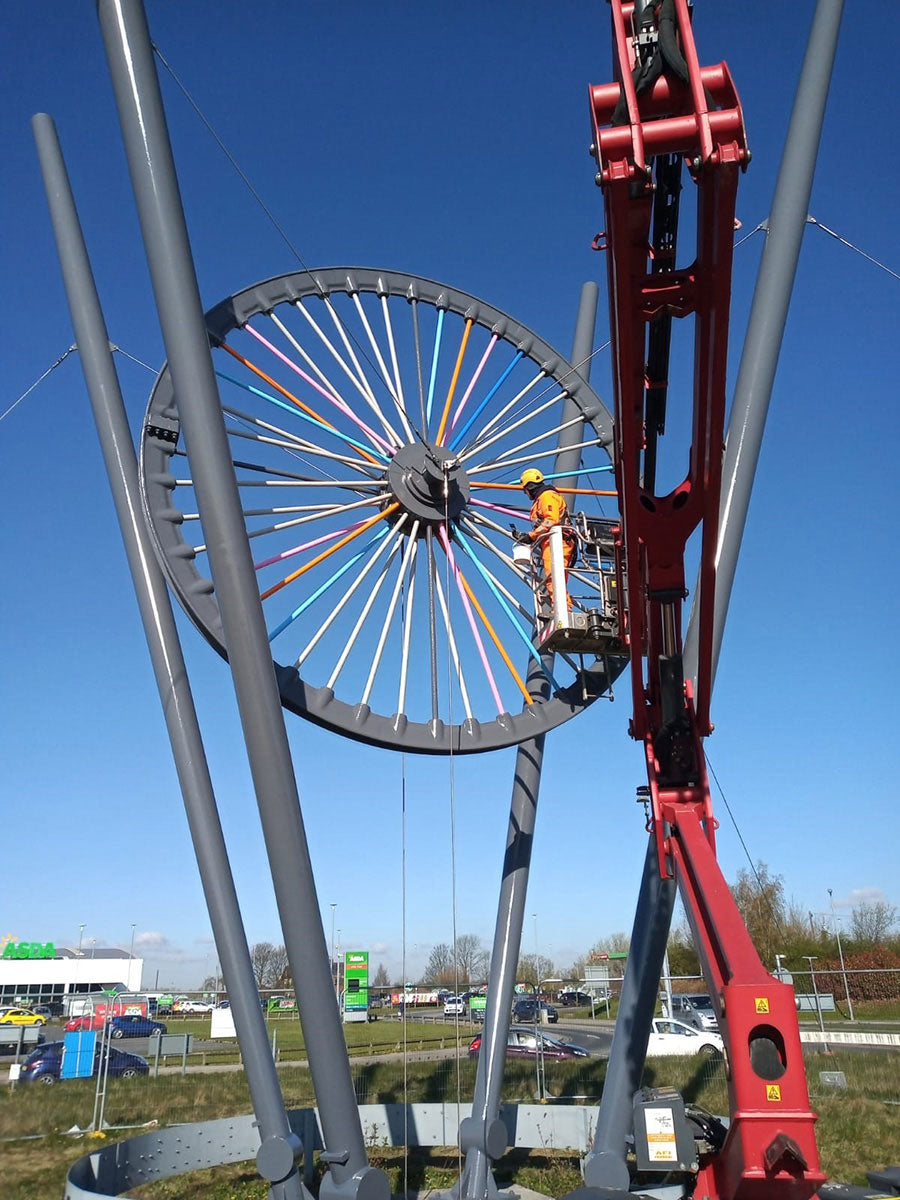 The Glasshoughton Wheel of Light stands tall above the old coal mine of Yorkshire bearing stories of the thousands of workers of the Glasshoughton Colliery and Cole Works.
The gigantic wheel was historically used to raise and lower a cage - transporting men and materials into the mine. Although it formed the centre of a bustling community till the 70s, the area was later left abandoned for decades following the closure of the mine and Colliery in 1986.
The wheel eventually took the form of a local landmark when it was restored by construction and development specialist Waystone who undertook an extensive reclamation project in the 90s to bring the 336 - acre community back to life.
The wheel was recently refurbished by Waystone before handing it over to the Wakefield Council to keep it restored for future generations.
A Colourful & Durable Finish
Unova supplied our A&I Vitreflon fluoropolymer coating system (Vitreflon V195 two-pack fluoropolymer topcoat, Vitreset V116 Surface tolerant epoxy intermediate and Vitreset V115 Surface tolerant epoxy primer) for the refurbishment project. The fluoropolymer coating was system specifically chosen for its availability in a wide range of vibrant Pantone colours coupled with its exceptional colour and gloss retention properties.
According to Nicola Spivey from Coating Services, 'Considering fluoropolymer paints are a relatively new technology, we were initially apprehensive about the ease of application and curing times of the products. But once we started application, we found the system was surprisingly effortless to use.'
'The paints could be sprayed, brushed and roller applied – taking the stress out of application in areas that were difficult to access. The drying times were also very low, which helped us speed up the application process and apply the layers within hours of each other'.
Exceptional Colour & Gloss Retention
When most traditional paints start chalking and fading over time due to sun and exposure to the elements, the high UV and corrosion-resistance of these paints keep the colour and gloss levels intact for up to 60 years. Conventional polyurethane coatings, on the other hand, would require two-three maintenance cycle in this time frame.
The colour retention properties of these coatings also provide considerable advantage when making localised repair and spot touch-ups as the colour variation would be minimal between the old and freshly painted areas. Add to it the natural anti-graffiti properties of Vitreflon, the coating system is expected to yield protection to the iconic landmark for years to come.
For more information on Vitreflon coatings, please get in touch with us on 01753 584 500 or email us at sales@unovaproducts.com.