Customer
Shere Heath Crossing Bridle Bridge
Location
Guilford, Surrey Hills
Product Used
Fluoropolymer Protective Coating
Contractor
NuSteel Structures Limited
Asset Owners
Network Rail Wessex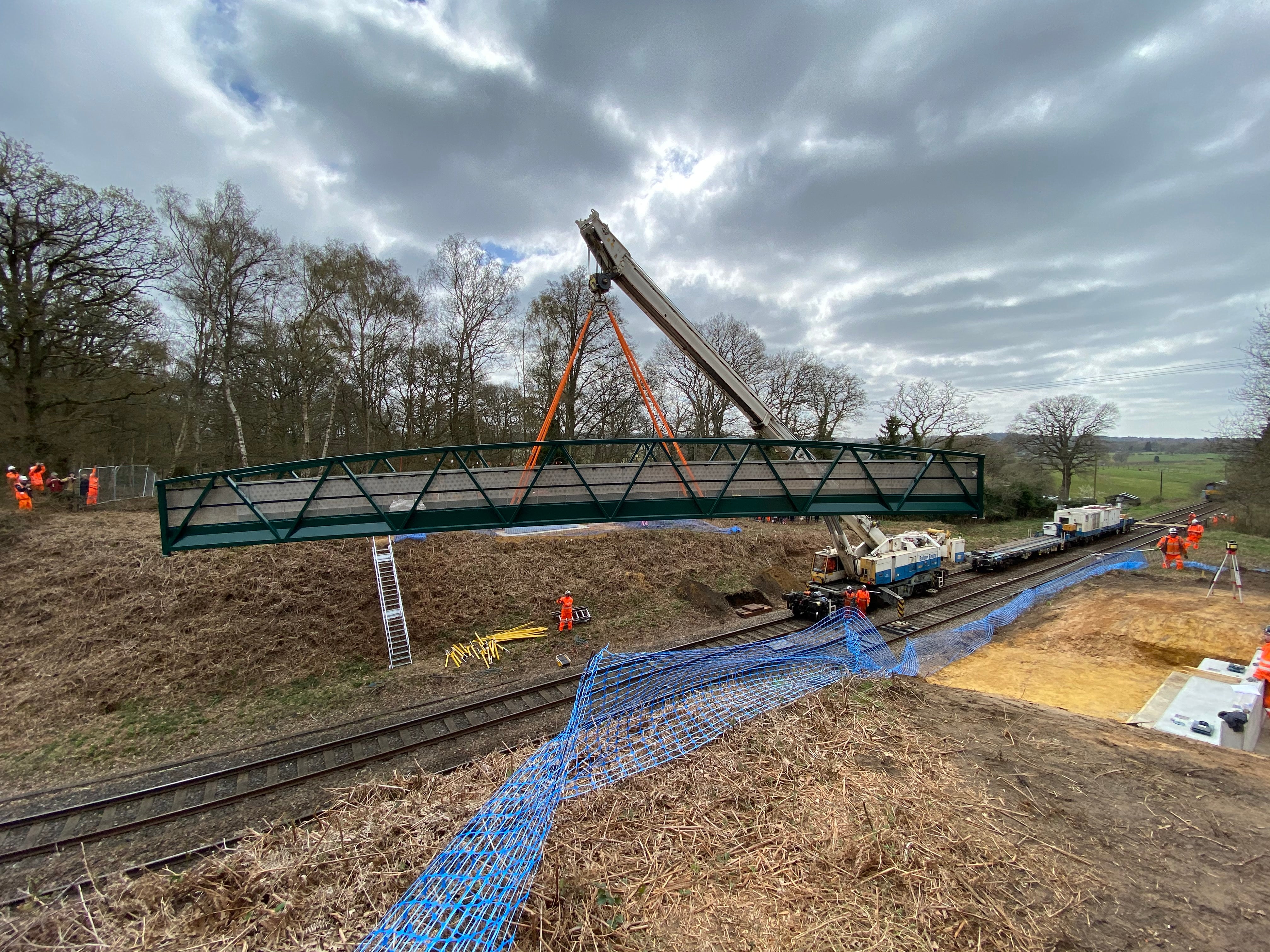 Extending Asset Life And Reducing Carbon With Fluoropolymer Paint
For many years Network Rail have worked with existing paint specifications that have enabled paint life cycles of around 20-25 years as normal. These were traditionally specified topcoats such as Acrylic Urethane (Network Rail 7.3.1) and Polysiloxane (Network Rail 7.3.4).
The advent of fluoropolymer top coated systems has now enabled a significant extension of coating lifetimes to up to 60 years, reduced life cycle costs and a considerable reduction in carbon footprints. The notable anti-graffiti properties of fluoropolymers also carry great benefits in most locations. 
Fluoropolymer top-coated paint systems are not new. After being pioneered in Japan in the mid - 1980s it is rapidly growing in popularity globally.  It is now mandatory for all Government-owned bridge structures in Japan to be fluoropolymer top-coated.  
Furthermore, the current global focus on Carbon Net Zero is arousing much interest in this technology as it enables robust reduction in the carbon footprint of projects by extending maintenance and repainting cycles. Fluoropolymers also enhance aesthetics as they provide unrivalled levels of gloss and colour retention compared to traditional topcoats.
Network Rail Approval
In late 2020 A & I Coatings achieved several Network Rail approvals. These were based on existing approvals such as N4, M20 and M24, but each having the variation of an FEVE Fluoropolymer topcoat.
Network Rail Wessex were keen to trial this new technology and selected Vitreflon FEVE top-coated N4 paint system for this bridge. Following the success of this application further projects have been completed for other Network Rail locations across the UK and others are at design stage.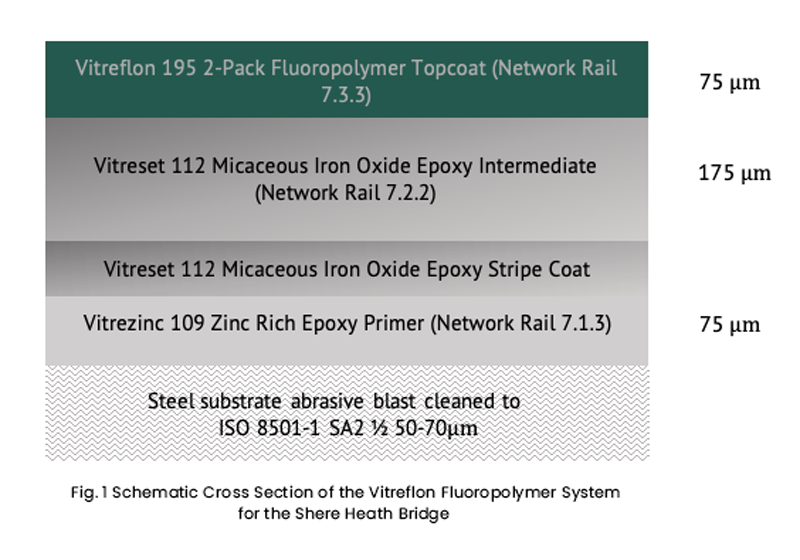 The Specifications
The Vitreflon Fluoropolymer system  specified for the Shere Heath project included:
- Vitrezinc V109 epoxy primer (Network Rail 7.1.3) applied to a thickness of 75-micron DFT Zinc Rich on the steel substrate, surface blasted to SA2½ standards.
- A stripe coat of Vitreset 112 MIO (Network Rail 7.2.2)
- Intermediate build coat of Vitreset 112 MIO Epoxy (Network Rail 7.2.2) applied to a thickness of 175 microns DFT
- Topcoat of Vitreflon195 FEVE Fluoropolymer (Network Rail 7.3.3), applied to a thickness of 75 microns DFT
The simple secret behind Fluoropolymer paint technology is that the FEVE Fluoropolymer topcoat encapsulates the underlying epoxy build coats with a virtually UV inert protective layer.  This impregnability is due to the superior bond energy of the fluorine to carbon bonds throughout the molecular structure that Ultraviolet photons cannot break down.
The painting work for the 30m Shere Heath bridge was completed in April 2020 by contractors Nusteel Structures Limited. For more information about Vitreflon fluoropolymer coatings, including free site-specific fluoropolymer paint specification, please get in touch with our expert team on 01753 584 500 or email us at sales@unovaproducts.com. You can also browse our fluoropolymer training video here.